The Power of Real Estate Online Video Marketing

In the world of real estate, it is imperative for properties to be shown in the best light possible. For years realtors have been using photography to portray their listings. This is a very effective tool because a listing's perceived value can be increased by 11.5% with professional photography. "In this difficult housing environment, real estate professionals and home sellers need to do all they can to differentiate their property," said Brian Balduf, CEO of VHT. "While perceived value is not the same as what someone ultimately pays for a property, it sets the benchmark as to what this property is worth in a buyer's mind compared to other homes in the same neighborhood. First impressions often have a big impact on a buyers' decision making process on which homes to visit and how much to offer." As photography is an essential tool for realtors and sellers, it still does not tell the whole story. This is why high quality videos can help realtors and their listings stand out from the competition.

Some realty agents started producing "video" tours of homes, but in reality these video tours are redundant slide shows of the same still photographs. While this does allow them to share the listing on video sharing websites and social media outlets, it does not increase the perceived value of the listing any more that the original photographs.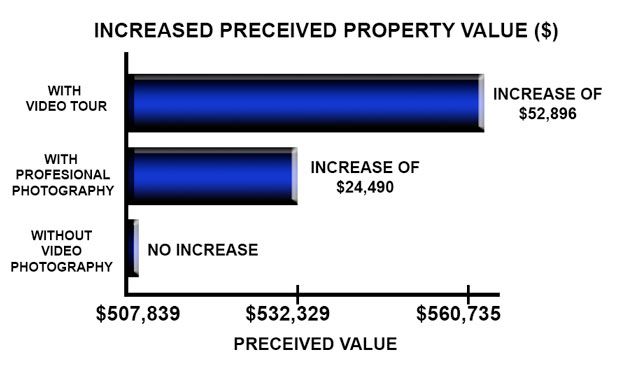 If realtors want to increase the perceived value of a listing and compliment the photography of a listing, then professionally produced videos are the best option. Well-produced videos allow a property to be seen in the most captivating and realistic way when it comes to digital media. They allow properties to be displayed through dynamic camera movement, background music, and voice-over narratives that illustrate the elegance of a property and all of its unique qualities. As seen in this example of a luxury property listing in Pacific Palisades produced by Web Video Solutions.
Videos allow realtors a chance to introduce themselves and their listings to thousands of potential buyers with social media and email marketing. "Viewers retain 95% of a message when they watch it in a video compared to 10% when reading it in text" (insivia). Some agents might already be utilizing email marketing and social media, but by including a well produced video, their click through rates are going to increase. "Video equals higher viewer retention. The information retained in one minute of online video is equal to about 1.8 million written words" (Source: Brainshark).
La Jolla Real Estate agent Justin Brennan has taken his email marketing efforts one step further and incorporates his video blogs into his email marketing campaign. The video blogs that he produces give helpful information such as market trends, statistics, and other helpful information that will benefit potential buyers and sellers.